Went to a wetlands park in DongHe (district of BaoTou) one of the days during the week long holiday with K. Not much to say about it really. Got in a nice boat. Stopped off at a couple of small islands with miserable animal parks and Buddhas. Happy peacocks and peahens though. Random warriors of the terracotta army. I doubt they were the real deal but I do feel I don't particularly need to go to XiAn anymore.
Some of the fish were alive. Most were more fortunate. Nice views though.
This was also were we found the Mao museum. It was a labout of love for this one dude and his friend who'd been collecting memorabilia for 17 years. This is where I bought my 'wei ren min fu' (Serve The People) bag... which I can't find a picture of on google. It's both functional and patriotic.
Many pictures. They're all thumbnails, so you can click them to make them bigger.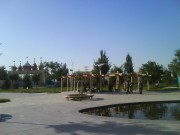 ( click here )