Some pictures from Baotou.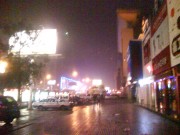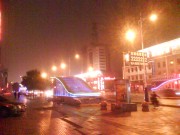 This is Gangtie Dajie at night. That's pretty much the main road in KunQu district (where I live) and is where the hotel is that I was staying in when I first arrived.
Victory Mall is a pretty new place on Gangtie Dajie. I post because, although you probably can't tell in the blurry picture, that shiny white thing out front is a statue of Mao. The Lad Himself doesn't actually glow, it's just all the neon reflecting off of him that's doing that~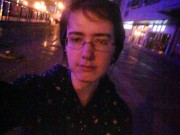 This is a Fionn. In the picture she can be seen wandering home early from a staff dinner because the Korean restuarant was overly noisy and had poured fish sauce over all the salads so she couldn't eat anything.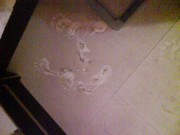 Last Tuesday I went to Hohhot for yet more visa business. A dust storm (my first~) started up Tuesday night and continued all the time I was at school on Wednesday... Guess who'd forgotten to close her bedroom window before going to Hohhot... xD Heh, oh well. There was MUCH dust. I finally cleaned it and gave the floor a good mop today, so everything is nice again ♫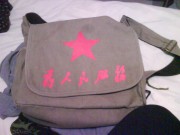 This is my Wei Ren Min Fu Wu bag.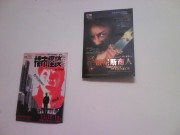 These are a couple of flyers I got from the theatre in Hong Kong. Not sure if you can see it properly in the pic, but the higher up one is for The Merchant Of Venice.